ePub Solution: conversion to ePub
ePub Solution is a team with extensive experience in publishing, graphic design, computer science and multimedia.
We believe that a good book is that without regard to what the media on which it is read from the book to your computer, from your tablet to your phone. We believe that there is nothing more beautiful for a reader to open the freshly printed pages of a new book and smell it ... but at the same time we are convinced that the new possibilities of the technology can not make that increase the desire to read in all of us.
For us every book has in it great potential and we think that everything depends on how, and to whom the volume is presented. To make this possible, to enable authors and publishers to focus on the process of creation and modification, ePub Solution offers its services to make electronic books equally beautiful and fascinating of their "brothers" of paper.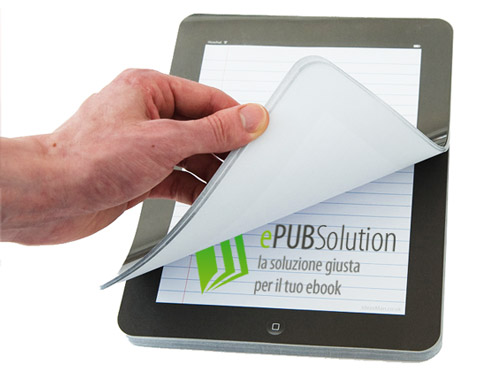 Why us?
Because we specialize in the ePub conversion, a process well established but flexible to the unique needs of each book.

Because for us, e-books have the same value as traditional books and therefore deserve the same care of the traditional layouts.

Because all the care, all the dedication and all the hours spent on each printed book can not be forgotten in their digital adaptation.

Because we don't see ourselves as suppliers, but co-workers with the same you want to get the best possible result.

Because we listen to your needs as a publisher or author.

Because we test every single job in order to ensure maximum compatibility with your ebook.

Because communication with us is fast and fluid, and we have a functional system for sending and receiving files.

Because the technology of the new devices, the specific ebook distribution channels are constantly evolving and improving and ePub Solution is committed to follow and continually update its reference value in order to offer you the best service to date and relevant.